Real Fresh-Cut Christmas Tree Delivery in London
Looking for the best fresh-cut Christmas tree money can buy, this holiday season? Well look no further, we at Hassle-Free Christmas Tree are once again here to the rescue. We offer everything Christmas tree-related that you might be interested in - delivery, installation and even collection. All of our fresh-cut Christmas trees are premium quality Nordmann Firs and come in a plethora of sizes.

We do deliveries for both residential and commercial customers, so if you need a Christmas tree delivered to your home or office, you know who to call! All you need to do is make a phone call or use our online booking form to set up your service. Let us know the size of the tree you would like delivered and the date and time you'd like the service to take place. From there on, we'll do the rest!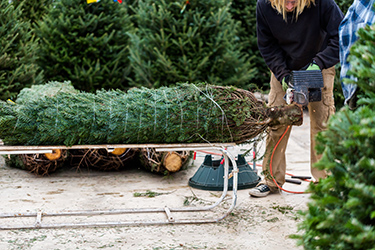 Why you should buy your fresh-cut Christmas Tree from us
Premium grade and non-drop Nordmann Fir.
A wide range of sizes - 5ft, 6ft, 7ft or 8ft in height.
All of our trees are cut as close to the ground as possible, meaning that none of their bottom branches are compromised.
No extra charge for weekend or holiday deliveries.
24/7 customer service. Give us a call or contact us online.
Trustworthy Christmas tree installation at an affordable price
By using our Christmas tree delivery service you can also have your Nordmann fir installed in the exact spot you want it (for an additional fee) - upstairs, downstairs, wherever you like. Included in our installation fee is a FREE water tank-type stand from which your tree will be able to "quench its thirst". Here's how we perform our Christmas tree delivery + installation service: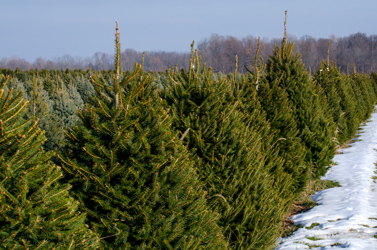 Our experts will put on some overshoes and then enter your property to take a look at the spot you'd like the tree placed.
They'll then saw off a small segment out of your tree's trunk in order to expose a fresh piece of heartwood. This will help improve the tree's water absorption. The Nordmann Fir is then placed on top of a special reservoir stand filled with water and positioned in the spot you wanted it in.
After your Christmas tree is installed, the professionals will vacuum all fallen needles off your carpet.
We can also collect and recycle your Christmas tree once the celebration is over. This service is available between the 2nd and the 31st of January. Also, by booking a Christmas tree collection together with the delivery, you will get a discount of at least £15.
Why pick a Nordmann Fir?
The Nordmann Fir is the most popular Christmas tree variety in Europe thanks to its soft foliage and shape which make it a joy to decorate. It also has strong branches that can withstand the hanging of heavier glass decorations and is a great choice for people with allergies, as its needles have a thick waxy coating. And last but not least the Nordmann Fir is just an overall great looking tree with glossy dark green needles that rock a light blue underside.