Buy a real Christmas tree online and have it delivered to your door, anywhere in London
Save £5 & secure your spot on Santa's Nice list by pre-ordering your Christmas tree now by applying voucher code: #NiceList
Ho ho ho! Are you on the hunt for the freshest real Christmas tree out there? Well, look no further, we at Hassle-Free Christmas Tree have you covered. Not only do we sell the finest real fresh cut and pot grown Christmas trees, but we also deliver and set them up for you!
We offer a range of Christmas tree types and sizes you can choose from. Once you've picked the one you like best, all you have to do is pick a day and time you want it delivered and leave the rest to us. Each year we start our Christmas tree delivery service on the 15th of November and finish up by the 23rd of December. You will be happy to know that we also offer a Christmas tree collection service, which you can book after the holidays or combine with your delivery and receive a discount of at least £19.
What Christmas tree varieties do you deliver in London?
We currently have two Christmas tree species and types you can choose from:
Fresh cut Nordmann Fir - Our fresh-cut Nordmann Firs come in sizes from 5 to 8 ft. Once installed inside your home with the appropriate water tank/stand, these trees can last for around 5-6 weeks before their needles start shedding.
Pot-grown Norway Spruce - We also deliver pot-grown Christmas trees. These come in sizes ranging from 2 to 3 ft tall. If looked after the right way a pot-grown Norway Spruce can be kept alive for decades.
---
The benefits of buying a Christmas tree online from us
Easy to book delivery and collection services! You can change your arrangements whenever you need to or get in touch with us 24/7.
The Christmas trees we deliver have been grown by members of the Bumblebee Conservation Trust and Horticultural Trade association in England, Scotland or Denmark.
Delivery of both pot grown Norway Spruce Christmas trees and fresh-cut Nordmann Fir Christmas trees.
We offer a wide range of Christmas tree sizes for our fresh-cut trees - 5, 6, 7 and 8 ft. While our pot-grown Norway Spruces are normally between 2 and 3 ft tall.
Safe and fully insured delivery process. You'll get your fresh-cut tree delivered and set up by a team of trained professionals.
We clean up any fallen needles leftover from the installation of the tree.
Get your Christmas tree delivered in North, South, East, West, and Central London FREE of charge.
If you arrange tree collection together with tree delivery, you will save a minimum of £19.
Delivery, Installation and Collection of fresh-cut Nordmann firs Christmas trees
Booking a Christmas tree home delivery/collection in London with us is super simple. Pick the service you want, give us your address and choose a day and time on which you want the service to take place. And voila, you will receive a quote for how much everything will cost. Once you accept and pay for the service, we will send you a confirmation email with additional information.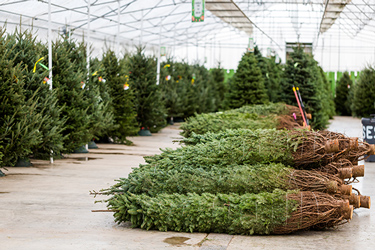 Delivery and installation: When the delivery day comes, we will bring you a freshly cut and fragrant Christmas tree. Upon request, we can also install your Nordmann fir in a special water reservoir type stand (for an additional cost). Afterwards, we will clean any needles that might have fallen during installation.
Collection and recycling: When the Christmas season is over, we can help you with the recycling process of your tree. Our Christmas tree collection is performed by fully trained and insured professionals. Note that this service is available from the 2nd to the 31st of January.
The Full Hassle-Free package: We can help streamline your entire Christmas tree journey. We offer a full package deal that includes Christmas tree delivery, installation, collection, and recycling and is priced affordably.
---
Who will deliver my Christmas tree?
The Hassle-Free team is made up of smartly uniformed and hard-working professionals. Each of whom has been fully vetted and personally interviewed long before they arrive at your door. We are sure that your Christmas tree service will go smoothly whether it be delivery or collection. You'll have your tree put up or taken away by a team who've helped hundreds of other people make this festive season their easiest one yet.