Hassle-Free Christmas Tree Collection in and Around London
Once the Christmas season is over we can collect and safely recycle your tree for you. If you want to book a Christmas tree collection with us, you have two options.
The first one is to take advantage of our collection + delivery bundle. If you go with this option, you will save a minimum of £15 off the entire thing.
The alternative to the bundle is to simply book a Christmas tree collection service three days prior to the day you want it. With this second option, the Christmas tree doesn't have to be one of ours, as long as it's a real one, we will be able to collect and recycle it for you.
Why pick us to collect and recycle your Christmas tree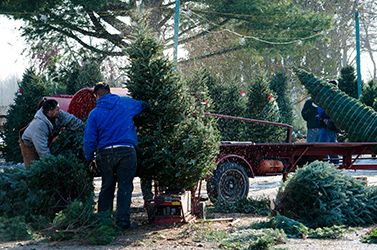 There are many benefits to using us for Christmas tree collection:
Unlike many of our competitors we recycle our trees at green waste centre, contrary to disposing of them;
You save at least £15 if you book collection along with our Christmas tree delivery service;
Unlike our competitors we carry out Christmas tree collection until the end of January, whereas most of them only offer this service until mid-January;
We have no extra surcharges during weekends and bank holidays;
Not only will we carefully remove the tree from the room it is in, we will also sweep up any leftover fallen needles off the floor;
If you book our collection service for a pot grown Christmas tree, we won't recycle nor dispose of it. What we will do however, is replant it in a closeby forest where it will continue to produce oxygen for decades to come.
We offer our collection service all throughout North, South, East, West, and Central London;
When do you start performing Christmas tree collections?
We begin collecting Christmas trees starting from the 2nd and all up until the 31st of January. All our services are performed by fully trained and insured professionals. Although normally you need to book this service three days in advance, we do offer urgent same-day Christmas tree collection. This is however only possible if we have available slots for said day. If we do, all you'll need to do is contact us and book your collection service prior to 5 pm on the day you want us to pick up your Christmas tree.